Fall Harvest Gathering Oct 5
Please join us for this exciting 3rd annual Harvest Gathering to support the education of the youth of Summit County. Tastings of over 100 wines, beers and spirits paired with foods from local restaurants. There will be a silent auction for skis, a beer brewing experience, and fine whiskey. Proceeds benefit Education Foundation of the Summit and the Peak School in Frisco.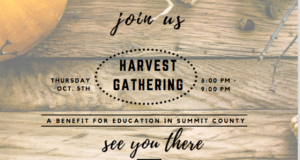 When:       Oct. 5, 6pm – 9pm
Where:      Rio Grande Mexican Restaurant
The Rio Grande Mexican Restaurant is located at 223 Lusher Court, Frisco in the Basecamp Plaza right across from Basecamp Wine & Spirits. Whole Foods Market is also right there.